Quelques informations sur moi-mème.
Mon nom est Adrian-Irinel Aciobanitei et je suis né à Bacau, Roumanie en 1958.
Dès le plus jeune âge, j'ai commencé à étudier le piano, puis l'orgue et plus tard la composition. Mon professeur d'orgue et de la musique de chambre fut le Père Joseph Gerstenengst, l'un des plus grands organistes de la Roumanie et du monde.
J'ai suivi des cours universitaires et post universitaires en ingénerie et informatique appliquée. Mes hobbies sont l'électronique et la musique (plus spécialement l'orgue et la composition). J'aime aussi pecher dans les eaux proches de mon village natal Bacau.
J'ai étudié en parallèle, toutes les disciplines de la théorie musicale, solfège, harmonie, contrepoint, les formes musicales, le language tonal et modal, la composition et l'orchestration.
Je suis passionné de mécanique, d'électronique, de peche sportive et bien sur d'ordinateurs.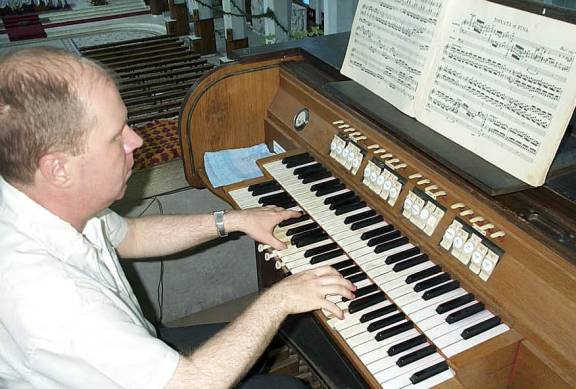 My name is Adrian-Irinel Aciobanitei and I was born in Bacau, Rumania in 1958. I started studying the piano at a young age and later took up the organ. My organ teacher was Father Joseph Gerstenengst, one of the greatest organists in Rumania and the world.
I studied mechanical engineering and took post-graduate courses in computer programming. My hobbies are electronics and music (especially organ and composition). In what little free time I have I like to fish in the rivers and waters near my native village of Bacau.
I have studied composition, with all its theoretical disciplines such as harmony, counterpoint, musical forms and orchestration. I have composed toccatas, fugues and chorales for the organ, as well as sacred music (an Ave Maria and a polyphonic mass for four-part choir and organ).